1, The cutest mini masturbation device, egg-shaped packaging, inside is equipped with super elastic masturbation soft gel, with sex lubricant, can make your masturbation experience the real sex feeling.
2, there are 6 types of soft gel inside the mini masturbation egg, giving you a different exciting experience. You can buy them individually or as a set of six.
3, this airplane cup is made of high elastic TPE. It is compact, easy to carry, and designed for one-time use. You can experience different pleasures every day.
Specifications: 68mm*52mm
Material quality: TPE
Net weight: 44g
Packing number PCS: 300PCS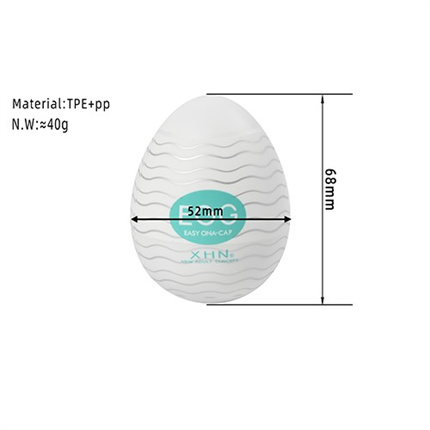 Mini male masturbation device is the world's best-selling masturbation device, portable, safe, and a variety of styles to choose from.
We provide OEM and ODM. The package box of this product is blister packaging.
The freight for our shipment to the port of Guangdong, China is borne by our company.
40% deposit is paid in advance for the order, and the goods will be shipped after receiving the full payment after inspection.
4.FAQ
1. Question: Is the product material environmentally friendly?
A: Our materials can provide ROSH and MSDS test reports, which are environmentally friendly and harmless;
2. Q: Will it break?
A: The mini masturbation egg is made of TPE high elastic material, it will not break under normal use, please do not pull it violently; if your penis is too big, it may burst.
3. Q: Will it damage the penis?
A: No, because the mini masturbation egg has good elasticity, it can be removed after use, and it will not damage the penis;
4. Q: How long is the lead time?
A: We will arrange production in time after confirming the order, and the delivery time will be 7-15 days according to the order quantity;
5. Q: Can OEM be accepted?
A: The packaging can be customized according to your requirements;
Hot Tags: Egg shaped airplane cup, China, suppliers, wholesale, buy, price, bulk, discount, quotation