This G-spot vibrator mute PAPA has a built-in motor and a magnetic pulse vibrator, which can stimulate the G-spot and clitoris at the same time, and the part inserted into the body can be heated to 42 degrees, making your body feel more comfortable.
He can be worn in underwear and be invisible. You can turn on the remote control at any time and anywhere, and you can enjoy the pleasure of sex anytime, anywhere.
The G-spot vibrator mute PAPA uses a rechargeable lithium battery. After fully charged, press the power button on the main body for 1.5 seconds. The main body vibrates once to indicate that it has been turned on and then enters the standby state. If you use it alone indoors, you can short press the power button for frequency conversion , 7 frequencies are used cyclically. If you are wearing underwear when you are out, you can control the main body with the remote control in the standby state. Press and hold the remote switch button for 1.5 seconds to turn on the main body. Each time you press the switch button to make the mainframe vibrate, 7 Use the frequency cycle, adjust to your favorite frequency, press the heating button, the main body starts to heat up to 42 degrees, and press the power button for 1.5 seconds to shut down.
The host uses a rechargeable lithium battery. Please fully charge it before use. If it is not used for a long time, please keep it charged once every two months to prevent battery failure. The remote control battery can also be removed and stored separately.
1. The main body of the G-spot vibrator PAPA uses silica gel + ABS, a built-in motor, a magnetic pulse vibrator and a rechargeable lithium battery, pin-plug charging, working time 1 hour after fully charged, all materials can provide environmental protection certification.
2. G-spot vibrator PAPA and clitoral vibrator specifications
Specification spec: 13*90*5.5cm
Remote control battery model: 23A 12V,
Material: Silicone + ABS
Net weight N.W: 176g
Amount/Box:
3.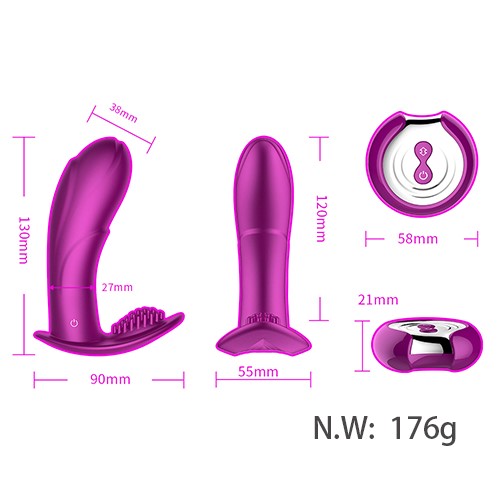 4. We can customize the packaging and the color you like for you, and provide OEM.
5. We provide high-quality production supporting services, and can provide you with solutions, with punctual delivery. Provide port transportation services in Guangdong.
6. FAQ answers to common questions
Q: What is the MOQ?
Answer: There is no special requirement, there is stock, and the minimum order is one box. If OEM is required, more than 500 pieces are required.
Q: What testing certifications can be provided?
Answer: We can provide corresponding test reports according to the needs of customers in different regions.
Hot Tags: G-spot vibrator mute PAPA, China, suppliers, wholesale, buy, price, bulk, discount, quotation